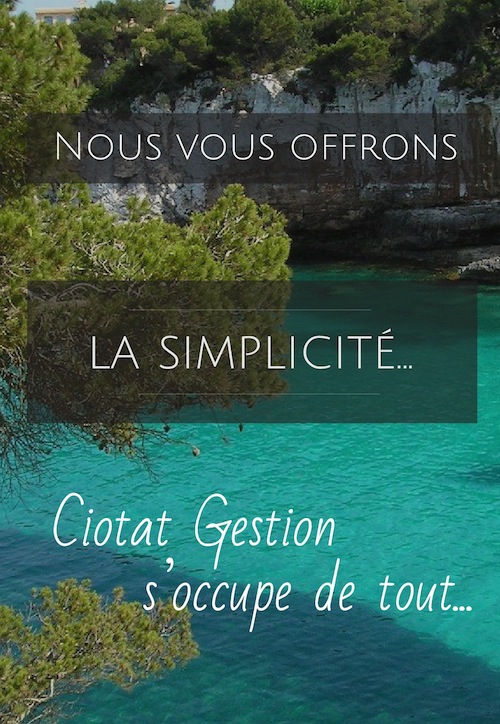 Owners, Ciotat Gestion frees you from the constraints relating to the rental of your property.
OUR LOCATIVE MANAGEMENT SERVICES:
We broadcast the announcement of your rental property (multicast),
We are looking for a serious and solvent tenant, and put the financial file in place.
At the beginning of the lease:
We take care of the detailed inventory and the entrance of the tenant,
We write the rental contract,
We collect for you the security deposit and home insurance.
During the lease:
We collect every monthly rent, We pay you monthly rent payments by bank transfer,
We manage the maintenance work at the expense of the owner (declaration with the promoter of the accident in case of guarantee, or establishment of a quote submitted to the owner),
We manage the follow-up and the rapid execution of the works (after your agreement).
At the end of the lease:
We carry out a preliminary inventory of the premises in order to evaluate the necessity of works at the expense of the tenant before his exit,
We manage a detailed procedure of exit situation,
We make every effort to minimize and avoid the vacancy of your rental property,
We ensure that your property is made ready by the tenant (followed by refurbishment if necessary),
We return the security deposit to the tenant according to the legal deadline, subject to verification of the condition of the property.
Each year:
We complete with you the income tax return,
We manage the payment of the charges of co-ownership with the Syndic,
We carry out for you the regularization of real expenses with the tenant,
We manage the renewal of the lease (after agreement of each party),
We review for you each year the amount of rent of your property in agreement with the real estate market,
We manage the detailed procedures of inventory of places of entry and exit.
CIOTAT MANAGEMENT "plus" services
In addition to managing your property, you benefit from unpaid rent guarantees, real estate damage and legal protection.
In case of litigation, we represent you to a third party.
For a personalized rate of our fees, contact us on +33 (0) 4 42 08 48 47 or gestion@agencecoulange.com